Consulting Services
ATKOTT provides consulting services which are built around a number of different subjects and are generally tailored to the specific client's needs and situation. Most organizations go through change or improvement cycles which are outlined in the IDEAL model from the Software Engineering Institute.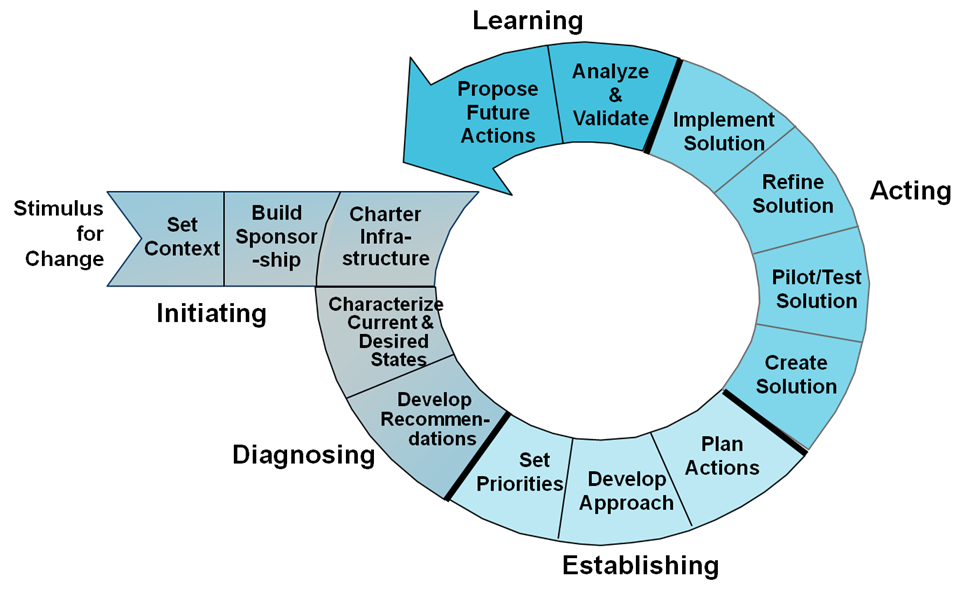 IDEAL Model
Organizational Change
Consulting on organizational change usually includes:
Establishing an adequate change infrastructure
Developing the skills and abilities of the sponsor, champions and coaches
Developing communication plans
Creating plans and strategies for deployment
Improvement Planning
Planning for process and technology improvements includes support for:
Developing action plans for the organization
Establishing priorities
Defining appropriate, measurable goals and objectives
Interpreting standards and models
Combining and leveraging multiple models
Process Monitoring
Monitoring can include a variety of coaching and organizational support activities including on-going, continuous appraisal/assessment of the organization process development and process deployment activities. Establishing and coaching effective quality assurance techniques.
Process Development
Development of model/standard compliant processes designed to address the integrations required by the organization and leveraging years of process development experience. This includes:
Software development
Information Technology (IT)
Embedded Real-Time Software
Hardware development
Systems engineering
Service delivery
Agile development methods
Full-lifecycle coverage
Methodology independent
Training and Training Development
Consulting is available for the creation and/or delivery of training programs in areas such as:
Project Management
Measurement
Process and Product Quality Assurance
Requirements Engineering
Software Testing
Process Development
Process Management
Process Tailoring
Quantitative Management
Project Coaching
Consulting also includes direct coaching support to programs on their usage of organizational processes and templates. This includes hand-holding, just-in-time training, coaching, mentoring, providing feedback, etc.